Posted on
By Vivian A. Ansuhenne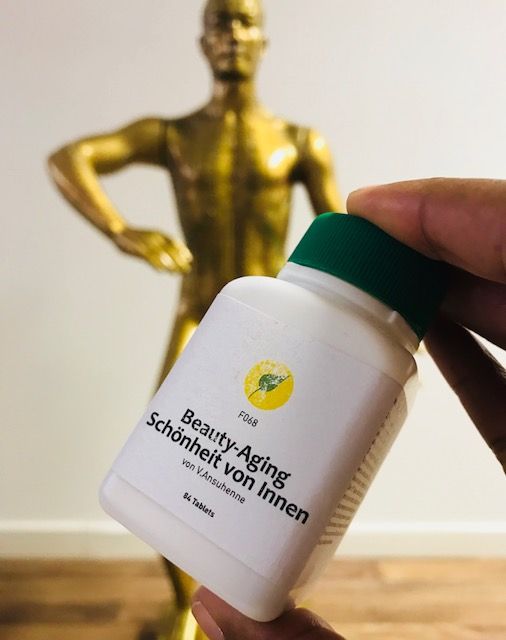 Alternative practitioner Vivian A. Ansuhenne has created a range of 17 Chinese formulas, registered as dietary supplements with Phytocomm.lu, based on herbs and mushrooms from the Traditional Chinese Medicine (TCM).
In these blogs she wants to tell you more about the individual herbs and mushrooms. Let's start with Beauty-Aging from inside.
Ingredients: Rehmanniae rad., Ganoderma lucidum, Angelicae sinensis, Polygoni multiflori rad., Amomi xanthioidis fructus, Lycii Fructus, Polyporus, Shisandrae fruct., Epimedii herb., Zingiberis rhiz. Recens, Curcumae longae rhiz.
Rehmanniae radix (Di Huang), Angelicae sin. (Dang Gui), polygone multiflori (He shou Wu) are frequently used in TCM formulations that are supposed to build up the yin and blood. These roots are very nourishing and should prevent our skin, hair and nails from drying out.
From the age of 30, Yin energy (standing for the body humors and blood) decreases, which in the end can visibly affect as dry skin, hair and nails.
Ganoderma lucidum, also called Reishi or chin. Ling Zhi, is also known as an anti-aging fungus and besides having all sorts of benefits for a healthy body. Ling Zhi specifically nourishes the yin organs such as the kidneys, liver, heart / pericardium, spleen / pancreas and lungs. The fungus strengthens the blood and strengthens Shen (the mind) in case of stress, inner restlessness up to burnout and finds, as an adaptogen its place in the natural tonics and tranquillizers. With its valuable ingredients such as minerals, lots of B vitamins and phytochemicals, it can provide a healthy, vital and rejuvenating body.
I have added Amomi xanthioidis fruct. (Sha ren) to help with the transformation of Di Huang, which may be difficult to digest, however, Sha Ren also acts strengthening on the spleen, stomach and kidneys.
Lycii fructus (Gou qi zi, Goji berries) and Shisandrae fructus (Wu wei zi) are both fruits that build up kidney and liver yin. The sweet and sour taste has a nourishing, but also holding effect.
Polyporus umbellatus, also called lumpy bracket, is a medicinal mushroom, which can be used especially for disorders of the skin and hair. Likewise, the fungus can support the lymphatic vessels by preventing water retention.
Epimedii herba (Yinyanghuo) strengthens Yin and Yang, so that the formula is not too Yin-sensitive and it can lead to dull wetness.
Zingiberis rhiz. Recens (Ginger, Gan Jiang), Curcumae longae Rad. (E zhu) are both roots / tubers that stimulate the metabolism, prevent stagnation / blockage and strengthen the middle, the Ying Qi.
On the whole, the formula is a very nourishing formula for the qi an yin and sometimes yang-building, which also dissolves stagnation and gently eliminates dull wetness.
- Especially good for the healthy growth of hair, nails and skin (connective tissue cells) -
Click here for the dietary supplement Beauty-Agingon the e-shop of Phytocomm.lu