The cheerful panda for the upper abdomen 120 Pian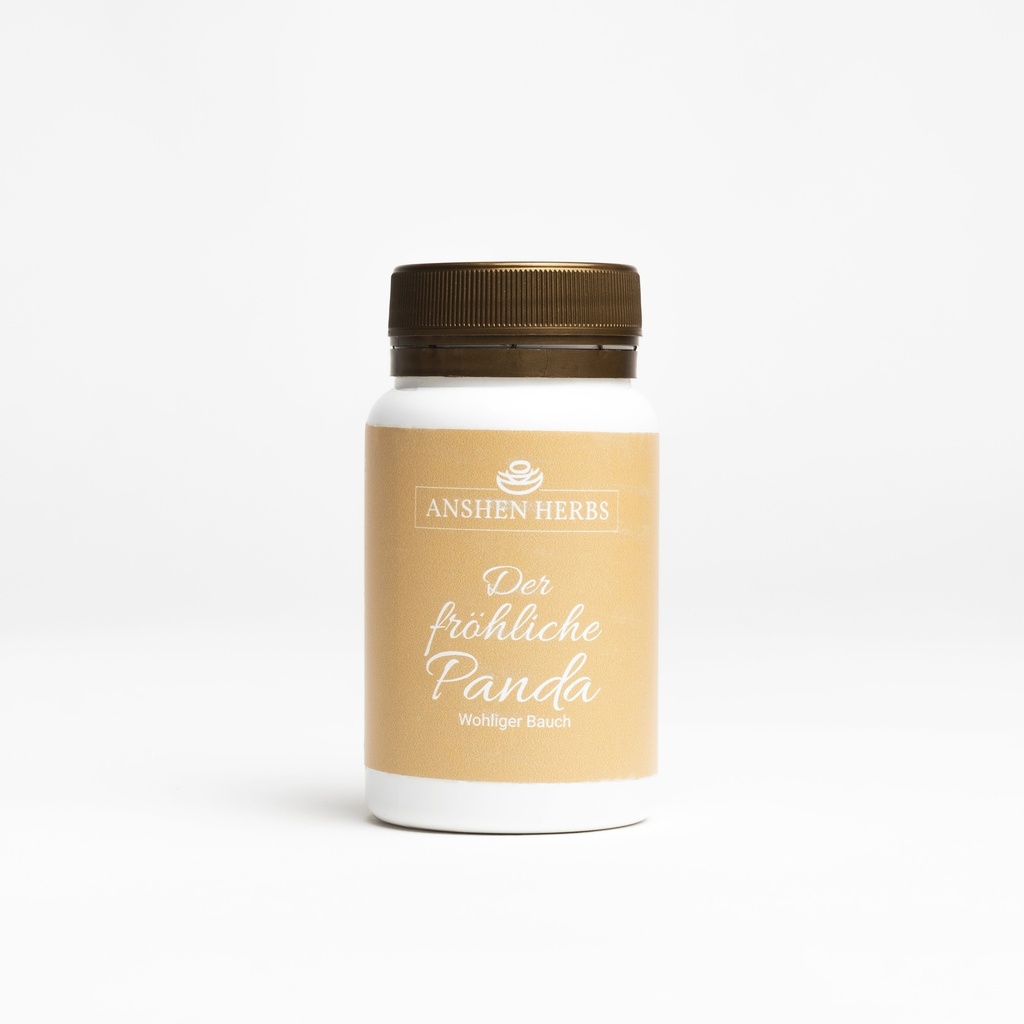 The cheerful panda for the upper abdomen 120 Pian
"For a healthy appetite."
Recommended daily dose 3x 2-4 tablets  
120 Tabletten (60g netto)
Ingredients
Pinyin
Name
Gram
6 Tabs / 3g 
DA ZAO
Zizyphi Jujubae Fructus
2
0,3
GAN CAO
Glycyrrhizae Uralensis Radix
2
0,3
XIA KU CAO
Prunellae Vulgaris Spica
2
0,3
LONG GU
Draconis Os
1
0,15
MU LI
Concha Ostreae
1
0,15
HUANG QIN
Scutellariae Baicalensis Radix
1
0,15
MAI YA
Hordei Vulgaris Fructus Germinantus
1
0,15
SHEN QU
Massa Medica Fermentata
0,5
0,075
ZHU RU
Bambusae in Taeniis Caulis
2
0,3
XIAO HUI XIANG
Foeniculi Vulgaris Fructus
1,5
0,225
CHEN PI
Citri Reticulatae Pericarpium
1,5
0,225
FO SHOU
Citri Sarcodactylis Fructus
1,5
0,225
SHA REN
Amomi Fructus
1,5
0,225
BO HE
Menthae Haplocalycis Herba
0,5
0,075
MU XIANG
Aucklandiae Lappae Radix
0,5
0,075
SHENG JIANG
Zingiberis Officinalis Rhizoma Recens

 

0,5
0,075
Do not exceed the recommended daily intake.
Keep out of the reach of small children. Store away from light and at room temperature.
Food supplements are not intended to replace a balanced and varied diet and a healthy lifestyle.
Pregnant and breastfeeding women: seek the advice of your doctor or alternative practitioner beforehand.